FOUR DIMENSION CINEMA AT TIBIDABO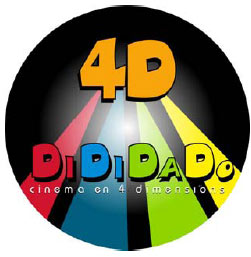 Last Thursday, 5th of July, Tibidabo Funfair (Barcelona, Spain) opened the first 4 dimension cinema in the Catalonia region, the DIDIDADO.
This attraction provides unknown experiences. The 4 dimensions are the result of 3D technology, enjoyed through especial glasses, plus the effects that allow the 4th dimension.
These effects are movement and wind, audio and water that comes from devices coordinated with the image sequences.
The cinema, located in the low floor of the plane building- right under the Krüeger Hotel- has two rooms: the first one, known as the pre-show room, has a screen larger than 118 inches wide and more than 78 high (3mX2m) and shows a presentation to the movie and the condition of use of the cinema. Afterwards there's the projection room where there's the screen that's more than 346 inches wide per more than 198 high (8mX5, 04m, aprox.). This screen receives the image from 2 projectors, with more than 7.000 lumens each, which provides digital definition HDI of 1920X1080 pixels.
The room has 70 seats and 4 places for wheelchair users since the room is adapted for people with reduced mobility. The movies are approximately 10 minutes long.
Parc d'Atraccions Tibidabo has commissioned from the Design for All Foundation a research to find the technical needs to guarantee people with visual and hearing disabilities access to this attraction.

< Back

Have you found it interesting? Subscribe to our channel