Jaccede announces Eurotrotters project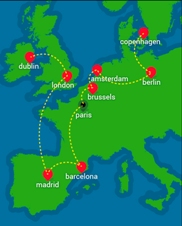 Jaccede is a not-for-profit organisation based in France which aims to share information about accessibility, promote accessible places, raise awareness among the general public and carry out grassroots activism. The organisation has created an interactive online information-sharing platform which allows users to upload details about the accessibility of places they have visited.

In autumn 2013, as part of a series of events in advance of Jaccede's Journée de la accessibilité (Accessibility Day), the "Eurotrotters", two volunteers from Jaccede, will be travelling to different cities around Europe to spread the accessibility message and create a human exchange platform to complement the website's virtual tools. At each destination, they will invite people to follow them in information-gathering sessions using the Jaccede mobile applications, thereby experiencing different approaches to accessibility. The Eurotrotters project aims to lay the foundation for an associative network in Europe and raise awareness about accessibility in as many European cities as possible.



Between 9 and 22 September, they will visit Barcelona, Madrid, London, Dublin, Brussels, Amsterdam, Berlin and Copenhagen. Jaccede is looking for organisations to collaborate with the Eurotrotters, by providing accommodation or transfers, joining the volunteers in their activities or raising awareness about the tour through media and social networks.

For further information contact:
Claire Baker - Project Manager – Email: claire.baker@jaccede.com
Judit Borbély - European coordinator – Email: judit.borbely@jaccede.com
< Back

Have you found it interesting? Subscribe to our channel