In this number of our Newsletter we present the monographic "The Design for All in the City", which we hope you will find interesting. As always, we would appreciate your comments and suggestions to keep improving it. Kind Regards from DfA Foundation team.
Agenda
May 27-29, 2010: Competitiveness for European Tourism for All - CETA International Conference, Sweden

Falsterbo, Sweden
read more
April 18-20, 2011: Include 2011
Organizer: The Royal College of Art Helen Hamlyn Centre
London, UK
read more
What's new
All newly built buildings will have to be accessible
The cabinet has approved early this year a royal decree by which the Town Building Technical Code is going to be modified, which implies a regulation, in Spain, of the basic conditions of building accessibility and usage that prevents the discrimination of citizens with any type of functional lim... read more
Workshop in Istanbul for sensitizing people on Design for All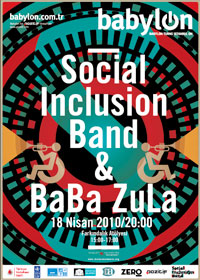 Last 18th of April, the Dream's Academy, in collaboration with the Design for All Foundation, held the workshop Urban Design for All at the Asmali Mosque, in the Beyoglu District, Istanbul.

The event was introduced by Ercan Tutal, president of the... read more
Monographic: "The Design for All in the City"
Interview with Silvio Sagramola about the accessibility in European cities

Silvio Sagramola is Director of the National Disability Information and Meeting Centre of Luxembourg (Info-Handicap) and Co-ordinator of the European Co... read more
Askersund, first Swedish city to renew the 'Flag of Towns and Cities for All'
Last December 13th, Sunday, the renewal ceremony of the 'Flag for the Towns and Cities for All' 2009 was held in Askersund. This event manifests the constancy in their commitment to improve the accessibi... read more
Palma City Hall receives for the third consecutive year the 'Flag of Towns and Cities for All'

In 2007 the municipal team committed itself to make of Palma a pioneering city as regards accessibility, assigning a minimum of 2% of the total budget for municipal investments in aspects directly related with accessibility.

During 2008, a total of 3.2 million Euros were invested, whi... read more
New working group in Eurocities: 'Barrier-free City for All'
Last 10th to 12th of May, Berlin hosted the launching meeting of the working group 'Barrier-free City for All' within the framework of their Forum of Mobility of Eurocities. This group is promot... read more