Here we are again with our Newsletter. Technical problems (already solved) have caused a delay of several weeks. Please accept our apologies, we will try hard to release next numbers on time. As always, we are at your disposal for any proposal or criticism you may have. Our warmest greetings on behalf of the team at the Design for All Foundation and HAPPY HOLIDAYS!
Registration form for the Foundation's annual dinner now available on our website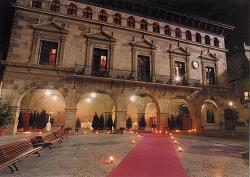 Next February 26th 2010 the Foundation will hold its annual dinner in the Valderrobles Town Hall of the Poble Espanyol in Barcelona. It will welcome all the enterprises, administrations and entities in collaboration to attend. It is also open to all those organizations interested in the 'Desi... read more
This is the name of the International Initiative that Alternative Life Association (Ayder) has been promoting since last year in Turkey through Dreams Academy... read more
Design Management Europe Awards 2009

The DME Awards 2009 ceremony, held on 22 October, brought together an international audience composed of business representatives, members of the international community of designers and design managers, as well as policy makers. Though candidates come from different countries, backgr... read more
Capmar S.L. and IED Barcelona present the first solar bus stop in Spain
The Istituto Europeo di Design (IED) – Barcelona, a Design for All Foundation's collaborating entity, and Capmar S.L., along with Barcelona's Entitat Metropolitana del Transport... read more
World-wide study on rail accessibility

ProAsolutions S.L., in collaboration with Socytec S.L., both companies members of our Foundation, were selected by ... read more
Last October, the toy manufacturer company Muñecas Llorens (Dolls Llorens), together with the Research Association for the Toy Industry (AIJU) and the support of the ... read more
Workshop 'Innovation in Accessible Transport for All': Washington D.C.
The International Transport Forum (ITF) and the World Bank jointly sponsor this one day international workshop to be held next January 14, 2010... read more
ESDi holds the 1st International Congress on Design and Innovation
With the motto "Design, driving force of the innovation and the social progress", the Higher School of Design (ESDi) organizes this congress to celebrate its 20 years of existence. The congress will take place on March 18 and 19, 2010. T... read more